Former ABC Exec And 'Jimmy Kimmel Live!' EP Duncan Gray Wins Social Media Challenge Format For ITV2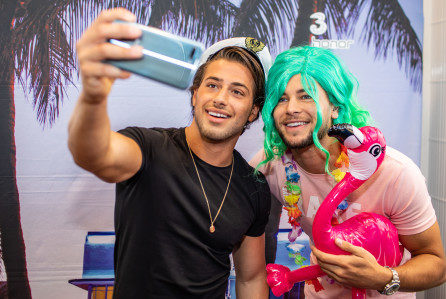 Former ABC exec and Jimmy Kimmel Live! executive producer Duncan Gray has won a social media-led challenge format for ITV2 fronted by two of the breakout stars of Love Island.
Gray's Cineflix-backed production company Twenty Six 03 Entertainment is making You Vs. Chris and Kem, which will see the two Love Island hunks travel around the country in a series of ludicrous challenges. The pair will travel in a pimped out "bro-mobile" and will face challenges from viewers sending them via social media. They will need to decide whether to accept them without knowing the full extent of the challenge or their competitors until they arrive at their destination.
The format, which will air after an episode of this year's Love Island, which starts Monday on ITV2, has already garnered interest internationally, with Gray telling Deadline that he is already in talks with broadcasters and producers in Germany and Australia over local versions. He is also targeting a U.S. adaptation of the show.
The show is executive produced by Gray and Antonia Hurford-Jones and was commissioned by ITV's Amanda Stavri and Paul Mortimer.
Gray said: "Like the rest of the country, all of us at Twenty Six 03 fell in love with Chris and Kem last year. You vs. Chris and Kem will see the boys continue their bromance as they tour the country together competing against the ITV2 viewers who have lured them into spontaneous, absolutely anything goes, toe-to-toe challenges."
It is the latest entertainment order for Twenty Six 03 Entertainment, which last month scored a BBC Three entertainment commission, Beauty Blowout.
-Deadline 
Former ABC Exec And 'Jimmy Kimmel Live!' EP Duncan Gray Wins Social Media Challenge Format For ITV2